Cascadian Nurseries is a success story built from the goal of creating a one-stop horticultural distribution center for all our wholesale customers. We serve approximately 400 regular landscape companies, plant brokers, retail and wholesale nurseries, architects and designers, developers, golf courses, and parks – all within the Portland/Seattle metro areas. Our customers range from northern California and the Rocky Mountain States all the way to the East coast. We owe our success to the service we can provide – we're not only growers ourselves, we're also brokers of excellent quality plant material from the West coast's other leading growers.
Our Commitment to You
Our goal is simple – to supply you with what you need to please your customers, helping you get your work done well and on time.
We'll respect your timeline.
We provide you one-stop availability, saving you and your clients time.
We'll provide quality, outstanding selection and service.
Our sales yard is stocked with our expanded selection of Cascadian-grown plant material from our own fields, shrub material grown in #2 and #5 containers, and out-sourced plants – all ready for immediate pick up.
If we don't have what you need on hand, we'll reach out to the large network of growers we broker with – if it's out there, we'll find it.
Our Facility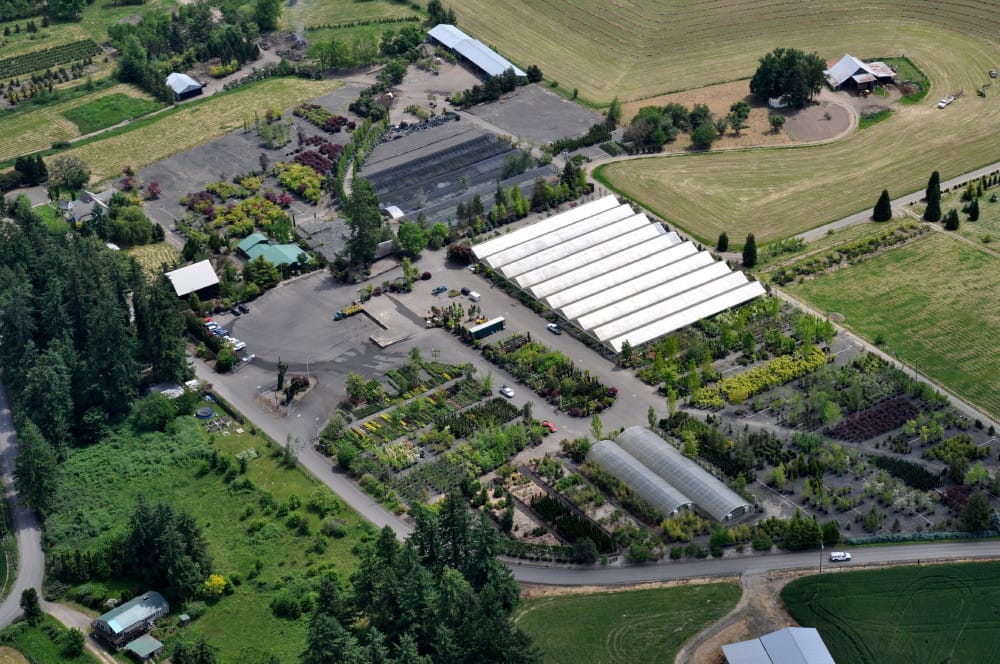 We're very thankful for and proud of our location! Our 20-acre sales yard contains over 75,000 square feet of greenhouses, extensive shade houses for production, and our offices. We maintain more than 80 acres of gently- sloped property for field production, and as a green company, we maintain 20 acres of wetlands with ponds, lakes, and streams for wildlife habitat.
Today, the nursery has expanded to over 100 acres. We've added 45 acres known as 3M Farms, which includes a 12-acre rural industrial park that was known as the plastic factory. This site has been leased to many tenants relating to agricultural and horticultural services, including Cascadian All In One LLC, and several landscape companies.
Our History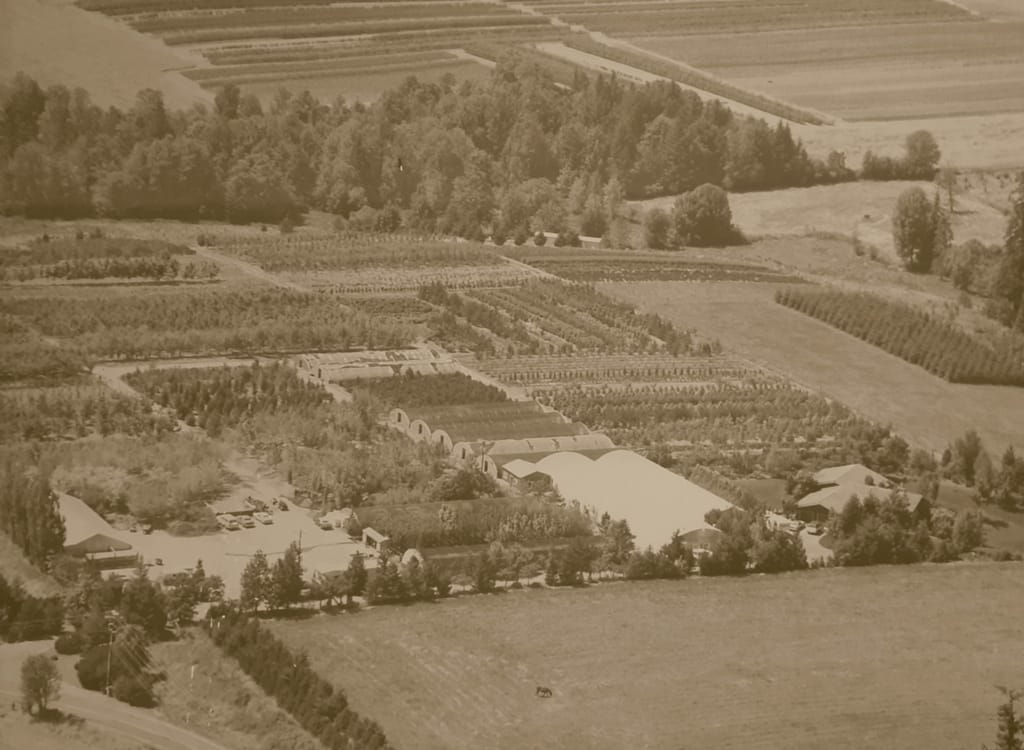 In July of 1961, Alfred (Fred) Meisner, his wife Carla, and their three month old twins, Rob and Art, emigrated from their homeland in Holland to the United States. Their youngest son Ed was born in Oregon. In 1969 they started Cascadian Nurseries, then located at NW 143rd and Thompson Road in Washington County. Here they created a one-stop horticultural distribution center, providing one location for everything needed by landscape professionals to operate a profitable business.
In September 2008, we added Cascadian All In One LLC for bark, professional soil mixes and textured aggregate needs. In 1988 we purchased the first 20 acres of the new property at our present location on Dick Road.
Our People
Fred Meisner- While in Holland, Fred received academic degrees in basic agriculture, horticulture, floral arrangement and design as well as nine years of practical field experience. In July 1961, Alfred (Fred) Meisner and his family emigrated from their homeland in Holland to the United States. In 1966, Fred founded Cascadian Landscapers and Cascadian Nurseries. Fred sold Cascadian Landscapers to his two oldest sons in 1999 to concentrate on the nursery.
Jim Larson– Has worked for Cascadian Nurseries since August 1988 and is the general manager. Jim's experiences include working at Teufel Nurseries from 1982 to 1988 and prior to 1982 working at retail garden centers in Oregon and southern California since 1973. Jim attended Fullerton Community College in California with a certificate in Nursery Management. Jim has served on the board of the Oregon Landscape Contractors Association (OLCA) for several years and served as President in 1995.
Ed Meisner- Ed grew up in the nursery. Starting at age nine, he worked in the nursery potting up liners. Ed is part of our management team and manages our field production and operations.
Ginger Wilson– Ginger has worked for us since June 2007 and came to us from Joy Creek Nursery located in Scappoose, Oregon. She has a wealth of knowledge of perennials. Ginger works in customer service and purchases the perennials, ground covers, and grasses.
Lino Mendoza- Lino has been an integral part of our team since November 2002. Lino speaks fluent English and Spanish which is helpful with our Hispanic customers. Prior to coming to Cascadian Nurseries, Lino worked for several years with Teufel Nurseries.